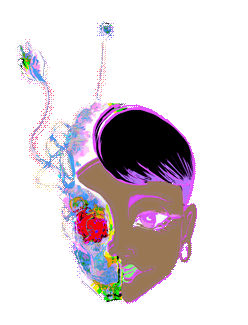 AFRODITI PSARRA
GR
Afroditi Psarra, PhD (Atenas, 1982) es una artista multidisciplinar trabajando con electro textiles, electrónicos DIY y sonido. Su interés artístico se enfoca en conceptos como el cuerpo como interface, manualidades contemporáneas y tradición, iconografía pop, estéticas retrofuturistas y el rol de la mujer en la cultura contemporánea. Sus obras de arte incluyen una amplia variedad de medios y técnicas que van desde el bordado, circuitos suaves, hackeo y código creativo a instalaciones interactivas y performances sonoros.

Cuenta con un doctorado en Imagen, Tecnología y Diseño de la Universidad Complutense de Madrid. Su investigación académica en Cyberpunk y Arte de Nuevos Medios se enfoca en la combinación de ideas y conceptos de la ciencia ficción con prácticas performatives y digitales y ofrece un análisis filosófico, sociológico y estético de la influencia de las nuevas tecnologías en los procesos artísticos contemporáneos.

Su trabajo ha sido presentado en numerosas plataformas como Siggraph en Vancouver, Ars Electronica en Linz, Transmediale y CTM en Berlin, Amber en Istanbul, Piksel en Bergen, Electropixel en Nantes y MakerFaire en Roma, entre otros. Ha trabajado como interina en Wireless Communications y Mobile Computing en Disney Research Zurich. Actualmente está en el cargo de profesora asistente en el Centro para Arte Digitales y Medios Experimentales (DXARTS) en la Universidad de Washington en Seattle, USA.


EXPEDIENTE CYBORG

2017: Hackelarre. Concierto Sintetizadores Bordados.
Afroditi Psarra + Corazón de Robota.
Afroditi Psarra, PhD (Athens, 1982) is a multidisciplinary artist working with e-textiles, diy electronics and sound. Her artistic interest focuses on concepts such as the body as an interface, contemporary handicrafts and folk tradition, pop iconography, retrofuturistic aesthetics and the role of women in contemporary culture. Her artworks include a wide variety of media and techniques that extend from embroidery, soft circuits, hacking and creative coding, to interactive installations and sound performances.

She holds a PhD in Image, Technology and Design from the Complutense University of Madrid. Her academic research Cyberpunk and New Media Art focuses on the merge of science fiction ideas and concepts with performative and digital practices, and offers a philosophical, sociological and aesthetic analysis of the influence of new technologies in the contemporary artistic process.

Her work has been presented at numerous platforms such as Siggraph in Vancouver, Ars Electronica in Linz, Transmediale and CTM in Berlin, Amber in Istanbul, Piksel in Bergen, Electropixel in Nantes and MakerFaire in Rome between others. She has worked as an intern on Wireless Communications and Mobile Computing at Disney Research Zurich. She is currently appointed as assistant professor in the Center for Digital Arts and Experimental Media (DXARTS) at the University of Washington in Seattle, USA.